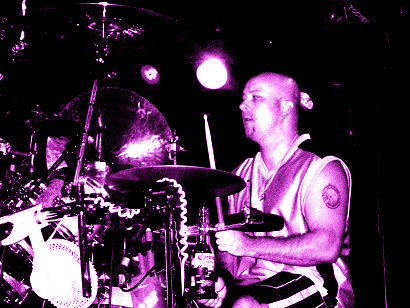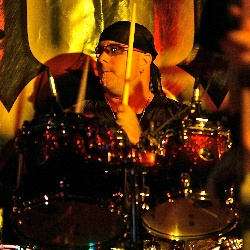 I moved from Seattle, Washington to Las Vegas, Nevada in July 2000.
I have played everything from Classical, Top-40, Heavy Metal, Disco, to Punk.
The drummers I look up to are Neil Peart (Rush), John Bonham (Led Zeppelin), Terry Bozzio (Missing Persons/Frank Zappa), Tommy Lee (Motley Crue), & Matt Sorum (The Cult/Guns n` Roses/Neurotic Outsiders).
I have been told by others that my my style of playing is like "Vinnie Paul" Abbott - (Pantera/Damageplan/Hellyeah) & Shannon Larkin - (Godsmack/Ugly Kid Joe/Wrathchild America).

I myself feel my playing is like that of Sean Kinney (Alice in Chains), Steven Adler (Gun`s `n Roses), Mark Michals (Faster Pussycat), Steve Riley (L.A. Guns/W.A.S.P.), and Garth (Wayne`s World)..OK, I am just kidding on the last one! But hey, as Garth says... "I Like to Play".

What I listen to : AC/DC/Aerosmith/Asia/Alice in Chains/Ambrosia/Bad Company/Black Sabbath/Bon Jovi/Bonfire/Boston/Candlebox/Cars/Cheap Trick/Cinderella/Cream/Damn Yankees/Deep Purple/Def Leppard/Dio/Dokken/Doors/Durran Durran/Eagles/Extreme/Faster Pussycat/Fastway/J.Giles Band/Great White/Guns `n Roses/Sammy Hagar/Hardline/Heart/Jimi Hendrix/Iron Maiden/Joain Jett/Journey/Judas Priest/Kansas/Kid Rock/Kingdom Come/KISS/Krokus/Led Zeppelin/Little River Band/Loverboy/Yngwie Malmsteen/Megadeath/Mettalica/Missing Persons/Eddie Money/Mother Love Bone/Motley Crue/Night Ranger/Ozzy/Alan Parsons/Tom Petty/Pink Floyd/Poison/Posies/Queen/QueensRyche/Quiet Riot/Rainbow/Ratt/Rush/Savage Garden/Michael Schenker/Scorpions/Skid Row/Sound Garden/Billy Squire/Stone Furry/Styx/Super Deluxe/Supertramp/Sweet/Tesla/Triumph/UFO/Ugly Kid Joe/Van Halen/Warrant/Whitesnake/Winger/Yes/Y&T/Zebra